Wondering what to read for summer? Picture books, chapter books, and activity books – Here are ten of our best picks for summer reading for all ages.
Hello Ocean  (Pam Muñoz Ryan, Mark Astrella) – beautiful illustrations about all thinks sea shore.
How I Spent my Summer Vacation (Mark Teague) – a rhyming discourse of a very imaginative and very western summer adventure.

Mama, Is it Summer Yet? (Nikki McClure) – helping children recognize natures signs of the changing seasons.

Flotsam (David Wiesner) – the ocean through the eyes and camera of a child. Lovely!
The Summer Visitors ( Karel Hayes) – Short on words, big on story, watch how a family and a family of bears enjoy their summer vacation.

The Relatives Came (Cynthia Rylant, Stephen Gammell) -Delightful depiction of family interactions when the relatives come for a summer visit.
Tales from Dust River Gulch (Tim Davis) – Unforgettable animal characters, suspense and humor make these short tales a read aloud event!
The Penderwicks: A Summer Tale of Four Sisters, Two Rabbits, and a Very Interesting Boy (Jeanne Birdsall) – What couldn't five children do in a summer on an old estate in Massachusetts? A great comedy chapter book and tons of fun!
Summer Fun!: 60 Activities for a Kid-Perfect Smmer! (Susan Williamson)
Summer Bucket Lists for Kids (Michelle Snow)
Click here for more of our favorite books! 
What to Read Wednesday Link Up:
You are welcome to link up your own posts about summer books, summer book activities, summer activities, crafts, reading lists etc. Posts not pertaining to this subject matter will be deleted. Please grab the button and include it in your post or include a text link back to the page.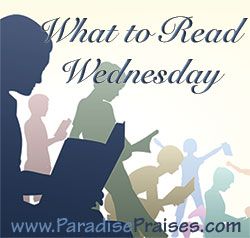 <div align="center"><a href="https://paradisepraises.com/category/what-to-read/" title="ParadisePraises"><img src="https://i1347.photobucket.com/albums/p708/ParadisePraises/whattoread_zpse96cb968.jpg" alt="ParadisePraises" style="border:none;" /></a></div>