Who are your hero's? Apart from my husband there are several people who are my heroes, people who I look up to and who have a certain character quality or accomplishment that I wish to emulate in my life: My Grandmas, My Aunt Mary, Amy Carmichael, David Livingston, Lillian Trasher, Darlene Diebler Rose, Robert Jaffray, and others. Many of these I first learned about through books or videos. Today I'm sharing our list of favorite Christian Biographies and resources.
Missionary biographies – see a full list here
YWAM Publishing – Their Heroes series is vrey good, and they have also created unit studies and curriculum guides for some of their materials.
I Heard Good News Today: Stories for Children: short chapters on various heroes of the faith (I highly recommend this one!)
Hero Tales (3 volumes in print): A Family Treasurey of True Stories from the Lives of Christian Heroes by Dave & Neta Jackson

Portraits of Integrity- A Family Treasury: Real People Who Demonstrated Godly Character


For Those Who Dare: 101 Great Christians and How They Changed the World by John Hudson Tiner


Jack's Life: The Life Story of C.S. Lewis
by Douglas H. Gresham

The Autobiography of Benjamin Franklin – free for Kindle for a limited time


High Calling: The Courageous Life and Faith of Space Shuttle Columbia Commander Rick Husband
by Evelyn Husband
Fanny J. Crosby: An Autobiography
Biography notebooking page – free download
Looking for more booklists by topic? Click here.
What to Read Wednesday Link Up:
I welcome you to link up your own posts about Christian Biographies. Posts not pertaining to this subject matter will be deleted. If you'd like to, please grab the button and include it in your post or include a text link back to this page. I'd love it if you would follow me on facebook, twitter or pinterest too!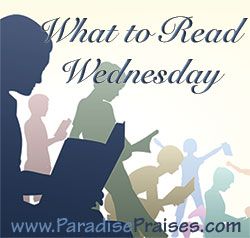 <div align="center"><a href="https://paradisepraises.com/category/what-to-read/" title="ParadisePraises"><img src="https://i1347.photobucket.com/albums/p708/ParadisePraises/whattoread_zpse96cb968.jpg" alt="ParadisePraises" style="border:none;" /></a></div>