A Good Story
Everyone loves a good story. And young and old alike can enjoy a picture book. But even more intriguing is a book that tells an incredible story WITHOUT words! This week on What to Read, we are featuring wordless picture books!
We love Wordless Books because they speak to the emotions through their art and they can be read by people of all levels of literacy and in any language!
Here are some of our favorite Wordless Books. You can click on the covers to see more detail on Amazon.com
The Lion and the Mouse (Jerry Pinkney) – the classic tale of neighbors looking out for one another told in breathtakingly brilliant illustrations!


Noah's Ark (Jacobus Revius, Peter Spier) – The old old story of the ark and the flood, told in great detail through pictures. You will discover something new on each trip through the story.


David Wiesner's wordless books are awe inspiring and SO. Much. Fun! Our new favorite is Flotsam in which a child finds a camera washed up from the sea, develops the film and makes some amazing discoveries. What he decides to do with what he's discovered is equally amazing. Be sure to check out any of these David Wiesner books!


You Can't Take a Balloon into the Metropolitan Museum (Jaqueline Preiss Weitzner, Robin Glasser) – Follow the adventures of the yellow balloon as it tours New York City while waiting for it's little girl to finish her tour of the Metropolitan Museum. Incredible art!


Pancakes for Breakfast (Tomie dePaola) – Kids love this pancake making process and you will too and you observe all the woman goes through just to get to breakfast!


Sidewalk Circus (Paul Fleishman) – Creatively shows what can happen with just a little bit of imagination! The circus is coming… or maybe, it's already here.

Mirror (Jeannie Baker) – Walk through the day with two children, in two different countries side by side. Find out how their lives are different, and how they are the same, and maybe a few other surprising things.
Arthur Geisert  is another artist we were delighted to discover recently. Our two favorites of his are Oops! and Hogwash! How can one word say so much? You have only to open the cover to his world of pigs to find out. Hilarious!

I am linking this to Hearts for Home Blog Hop
What to Read Wednesday Link Up:
I welcome you to link up your own posts about your favorite books. Anything books is fine. Posts not pertaining to this subject matter will be deleted. Please grab the button and include it in your post or include a text link back to this page. I'd love it if you would follow me on facebook, twitter or pinterest too!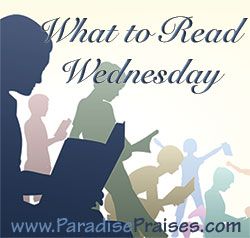 <div align="center"><a href="https://paradisepraises.com/category/what-to-read/" title="ParadisePraises"><img src="https://i1347.photobucket.com/albums/p708/ParadisePraises/whattoread_zpse96cb968.jpg" alt="ParadisePraises" style="border:none;" /></a></div>