Who are your heroes?
Many of my heroes are people I've met through the pages of my favorite missionary biographies. My children have met many of their heroes in the same way, through books or DVDs documenting the life, adventures & ministries of so many great men and women.
It thrills me to hear Flower speak of her aspirations to help children in China when she is older, just like Gladys Aylward, and to hear Sir talk about how he wants to be a preacher when he grows up, just like D. L. Moody, or to overhear them pretending to be on an airplane bound for Africa to help Dr. Livingstone.
Missionary biographies can teach us other things too: joy in the face of trials, faithfulness when the job is hard, obeying God instead of man, that sometimes God's will is for us to suffer so that he can get the glory, God's faithfulness to provide for & protect his own, and so many more…
Here is a list of our favorite missionary biographies. I'd love to hear about your favorites and anything you do to further study them.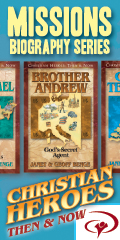 YWAM Heroes for Young Readers Biographies – picture books
YWAM Heroes Series Biographies – chapter books
Men of Faith Biographies by Bethany House Publishers
Torchlighters DVDs – a series of 30 min cartoon tellings of the lives and ministries of different missionaries and heroes of the faith. Each DVD presentation is followed by a few minutes of documentary information. Their site also has downloadable teacher guides and worksheets to go with the DVD's.

In the Presence of My Enemies by Gracia Burnham – This is a modern missionary story. Gracia's niece is one of our friends and my husband actually had the privilege of attending Gracia's husband Martin's funeral.
One More Mountain to Climb by W. Paul and Dorothey L. Smith  – Mexico


The Gospel in Bonds by Goergi Vins – Russia
It's a Jungle Out There!, "Life is a Jungle!", and Jungle Calls by Ron Snell – humorous stories of mission work in the Amazon


Evidence Not Seen: A Woman's Miraculous Faith in the Jungles of World War II

– Darlene Diebler Rose's experiences in New Guinea as a Japanese prisoner of war
Let My People Go: The Life of Robert A. Jaffray by A.W. Tozer – an excellent read for teens and adults


Not Beyond Reach: Stories for the Family by V. Ben Kendrick – short stories
By Searching: My Journey Through Doubt Into Faith and In The Arena by OMF international – the life of Isobel Kuhn

Through Gates of Splendor: The Event That Shocked the World, Changed a People, and Inspired a Nation (Hendrickson Classic Biographies)
What to Read Wednesday Link Up:
I welcome you to link up your own posts about missionaries. Anything relating to missions/missionaries is fine. Posts not pertaining to this subject matter will be deleted. If you'd like to, please grab the button and include it in your post or include a text link back to this page. I'd love it if you would follow me on facebook, twitter or pinterest too!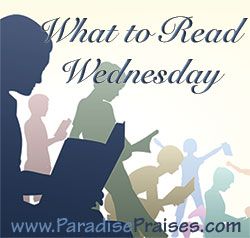 <div align="center"><a href="https://paradisepraises.com/category/what-to-read/" title="ParadisePraises"><img src="https://i1347.photobucket.com/albums/p708/ParadisePraises/whattoread_zpse96cb968.jpg" alt="ParadisePraises" style="border:none;" /></a></div>