[wp_eStore_cart_when_not_empty]Human being are social creatures, created in the image of God, and often our satisfaction comes from interaction with others, just as he delights to have fellowship with us.
Our need for communication is especially true in close relationships such as close friendships and marriages. But since everyone is different, communication is not always simple and it's easy to get ourselves into a mess.
Keys to Good Communication
Some of the keys to the good communication in our relationships are honesty and the ability to express our thoughts and opinions with the other person, without hurting their feelings in the process. One way I have learned to do this is by using "I" messages.
Use "I" Messages
These are not messages sent by iPad or iPhone. "I" messages are statements about ourselves that express our worries and concerns in our relationships and helps the other person she how he/she has taken part in giving us these concerns. It often disarms a tense conversation, and takes the other person off of the defensive.
"You" messages, on the other hand, focus on the other person and often lead to defensiveness, more tension and conflict. "You" messages can make the other person feel like he/she is being attacked.
I can't remember when or where I learned this key to good communication, but it was early on in our marriage, and it has saved us more than once from an explosive conversation or situation.
"I" messages are so helpful because they focus on the problem and not on the person. It is easy to defend yourself against an accusation, but you can't know what a person is feeling, and it's harder to argue with them, when they express feelings. The sharing can also lead to a boost in trust and shows you are willing to take responsibility for your own feelings.
How to Use "I" Messages for Good Communication:
I feel (insert feeling) when you (insert action that lead to the feeling) because (insert explanation of how action leads to the feeling).
If you want to diffuse the situation further, refrain from talking about their action, and concentrate on the result, or talk of it as a happening.
I feel (insert feeling) when (this) happens, because (explanation of how action leads to the feeling).
The order of the parts isn't as important and, depending on the situation, you may even add a fourth element and express what you would like to happen instead. For instance:
I feel anxious when you raise your voice because it makes me feel like I've done something wrong. Can you please not raise your voice when you talk?
Note: this strategy also works well with your children.
Communication with and about your husband is one of the things I cover in the Bible study ebook Divine Design. This would make a great personal or small group study. Click the image to see the full details in our shop: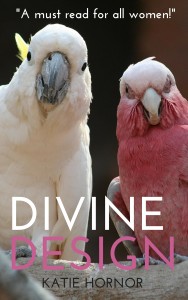 Have you ever used "I" messages in your communication with your spouse? How has it worked for you? I would love to hear from you in the comments, or in our Facebook Community Group.