This is a guest post by Hal and Melanie Young of RaisingRealMen.com Germany is very important to both Christian and Christmas tradition history and I know you'll enjoy today's post and gift from them. – Katie
German Christmas Traditions
Many of our common Christmas traditions originated in Germany. Do you have a wreath on your door or a tree in your house during the holidays? Although some Christians equate those things with pagan rituals, there is actually evidence that it was Boniface, a Christian missionary to the Germanic tribes of the 8th century, who introduced the custom of decorating Christian homes with greenery.
One day a boy came to the missionary with a desperate plea to rescue his sister who was due to be sacrificed as the vestal virgin to the pagan gods that evening. Boniface rescued her just in time, a wooden cross he carried catching the dagger in its deadly course. Boniface explained to the worshippers that there was no need for a further sacrifice for sin; that Christ had died in our place, the complete and perfect sacrifice, so that we could be forgiven.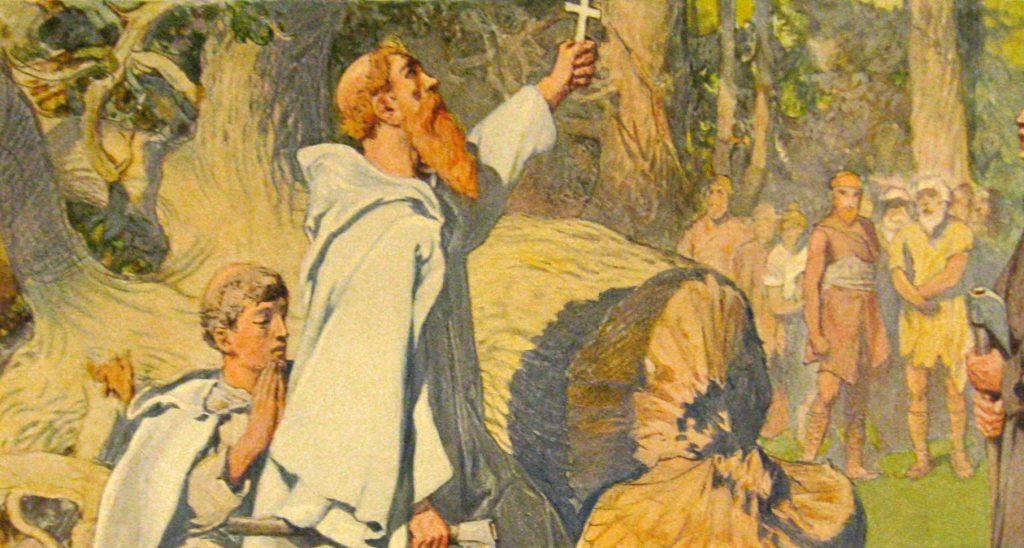 Boniface then boldly began to hack down the sacred grove. Shaken by the inactivity and incapacity of their idols, the onlookers came to Christ.
Boniface gave them the boughs he'd cut and told them to take them home and display them as a tribute to the finished work of Christ. As this occurred during the Advent season which Boniface soon taught them of, decoration with greenery quickly became associated with Christmas in Germany. Bringing whole trees indoors came much later. Today, Germans usually decorate der Tannenbaum on Christmas Eve.
German Christmas Culture
Christmas is a beloved holiday in German culture. Many cities have a huge Christmas street market, or Christkindlmarkt, during the Advent season. Decorations you see all over Germany are carved wooden carolers or angels and wooden pyramids.
The pyramids aren't at all like those we think of in Egypt! Instead they are intricately carved Christmas scenes on a turntable. Ours has the Holy Family, the Shepherds, the Wise Men, and Angels. It has wooden fan blades on the top and the heat from the candles on the bottom level causes the pyramid to rotate. Some pyramids are just a few inches tall, but occasionally you will see a giant one several stories tall in public places.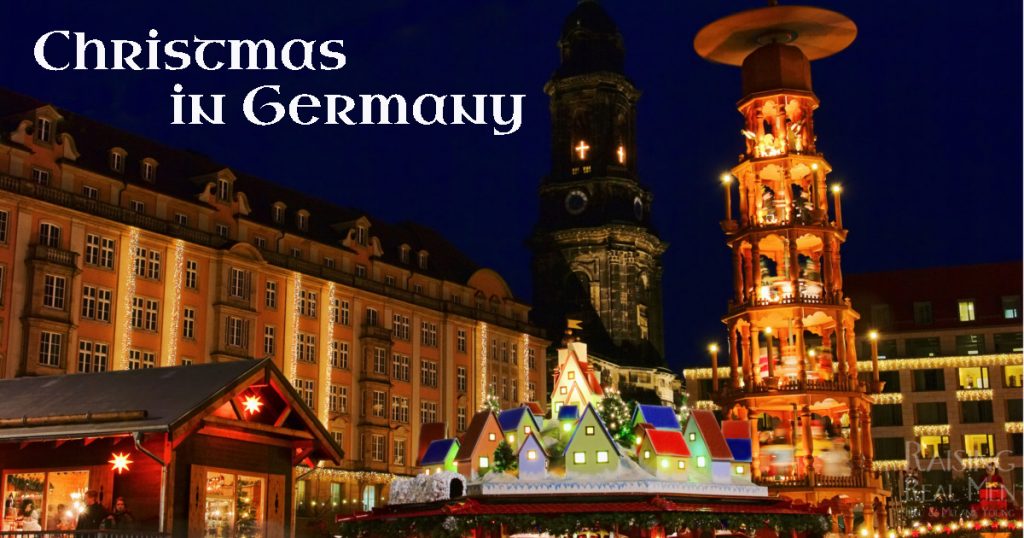 In some ways a German Christmas looks a lot like an American one. Families use an Advent Calendar and Advent wreath in the weeks leading up to holiday. German families bake Christmas cookies and have Christmas Dinner. They do open presents on Christmas Eve instead of Christmas Day, though, and they pretend the gifts are brought by the Christ Child, or Christkindl, instead of their parents or Santa. That's actually where the name Kris Kringle for Santa Claus comes from. Come to think of it, all good things come from God above, so maybe all gifts do come from the Christ child, in a way.
Germany Epiphany
Many Germans celebrate Epiphany, das Dreikönigsfest or Three Kings Festival, on January 6th as part of Christmas, too. Star Singers, called Sternsinger, carry a large star shape on the end of a pole to remind watchers of the Star of Bethlehem. The carolers go from home to home, often raising money for charity and marking C+M+B on the houses where they sing. Those letters stand for both the Latin phrase Christus mansionem benedicat, Christ bless this house and the traditional names of the Wise Men, Caspar, Melchior and Balthasar.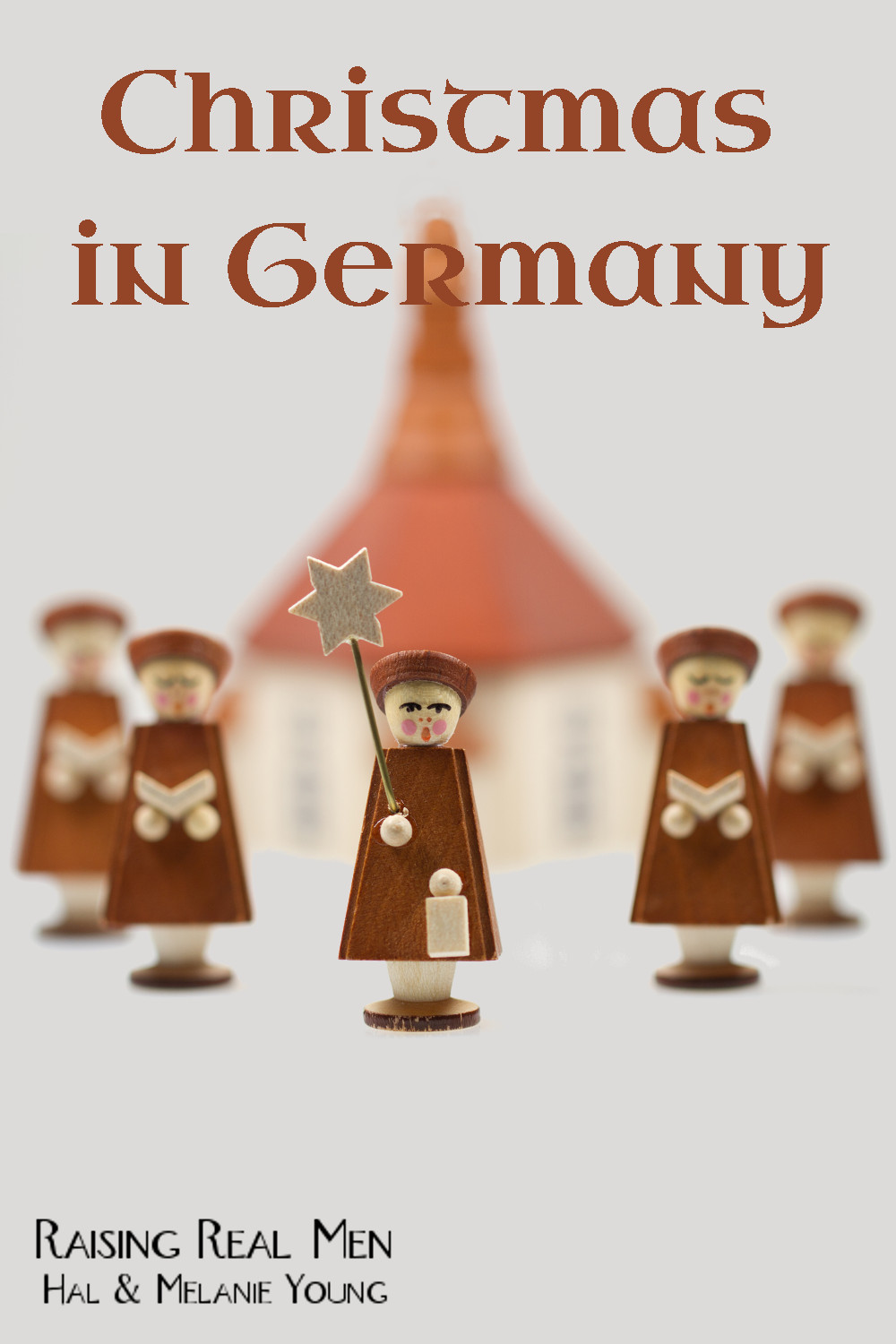 Christmas Carols
Caroling is a tradition we've embraced in our own family, though we usually go out before Christmas. Christmas is the only time of year that it is not only socially acceptable, but considered a gift to knock on stranger's doors and sing hymns full of gospel truth to them! We don't want this tradition to ever die out, so every year we invite like-minded families to come caroling with us. Our Caroling Party has become something not just our friends, but our whole neighborhood looks forward to!
Learn how to start a Caroling Party tradition in your community in our book, Christ-Centered Christmas. It has song sheets and secret family recipes, but also history, traditions, planning sheets, and practical ideas for making your entire family Christmas celebration less stressful, more enjoyable, and most importantly, more Christ-centered. You can get the ebook version free by becoming one of our thousands of happy subscribers! Just click here.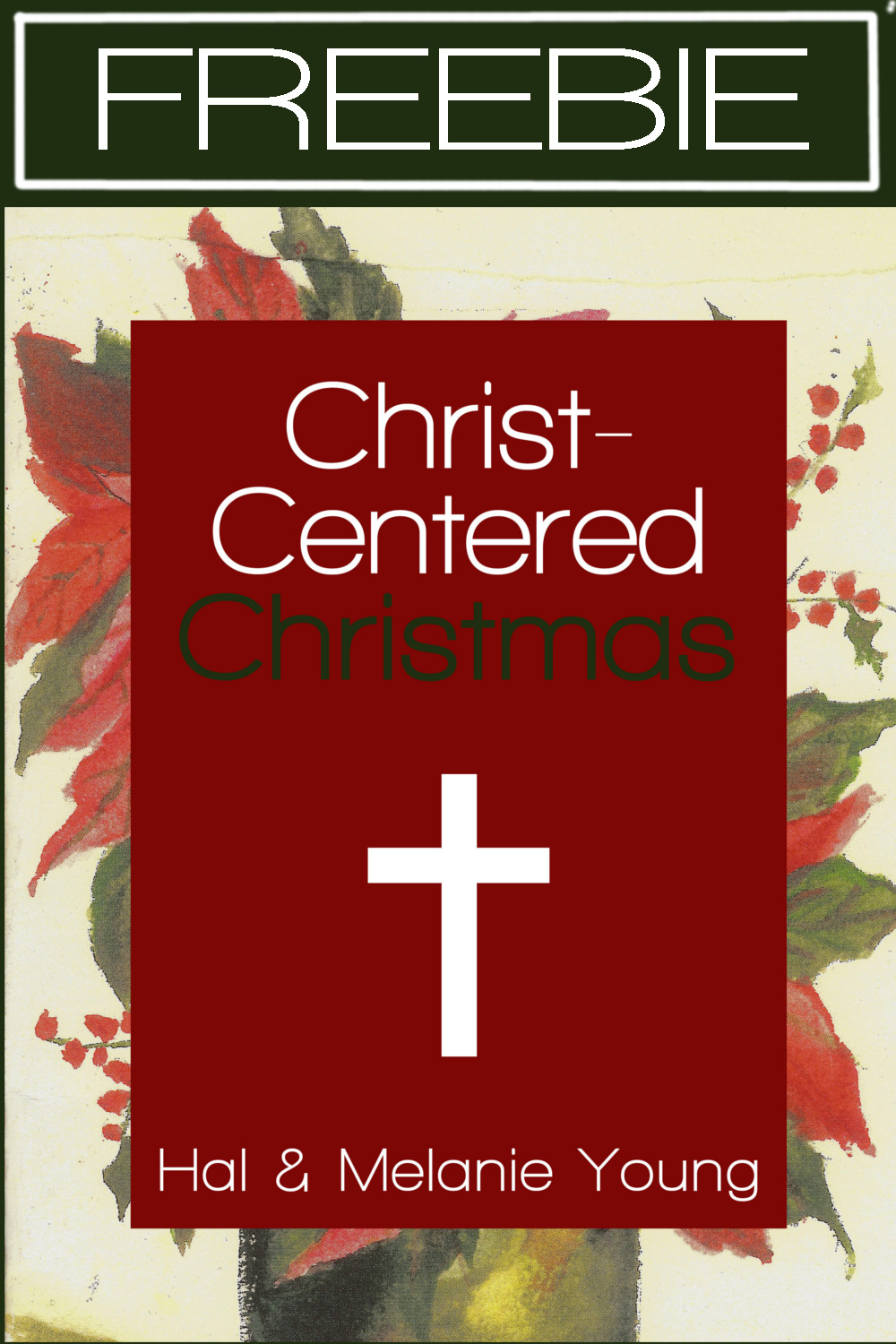 And if you have boys, you will definitely want to check out our annual Gift Guide for Boys (We have six of them)!
Fröhliche Weihnachten!
Hal & Melanie Young
---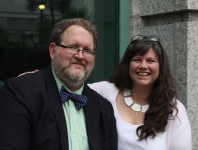 Hal & Melanie Young are the award-winning authors of Raising Real Men, My Beloved and My Friend, and Love, Honor, and Virtue. They are publishers, writers, bloggers, and popular conference speakers internationally, known for their Christ-centered focus and practical, real-life stories. They are the parents of six real boys (four grown!) and two real girls and live in noisy, messy happiness in North Carolina. Read their blog, listen to their podcast, and shop for great Christmas gifts!