As parents we have so many responsibilities when it comes to raising our children. One of those responsibilities is helping our children memorize scripture. The Bible is full of passages about learning God's Word. One that comes to mind is, Psalms 119:105 which says
"Thy word is a lamp unto my feet, and a light unto my path" (KJV)
In order to be led by God's Word, we must know what it says, especially during difficult times. I often have verses pop into my head that I memorized as a child, and they seem to come just when I need them.
There are a lot of different methods for memorizing scripture, but one of my favorite methods for helping kids memorize the Bible is with fun handwriting/memorization curriculum from Write Through the Bible.
Write Through the Bible
With these workbooks your child practices writing short selections from the Bible. While they are working on their penmanship, they are also working on memorizing large portions of the Bible. There are a wide variety of books to choose from including:
Psalms 1, 23, and 121
Exodus 20:1-21
Mathew 5: 1-10
Isaiah 52:13 – 53:12
Philippians 2:1-18
Proverbs 3:1-26
The Lords Prayer and more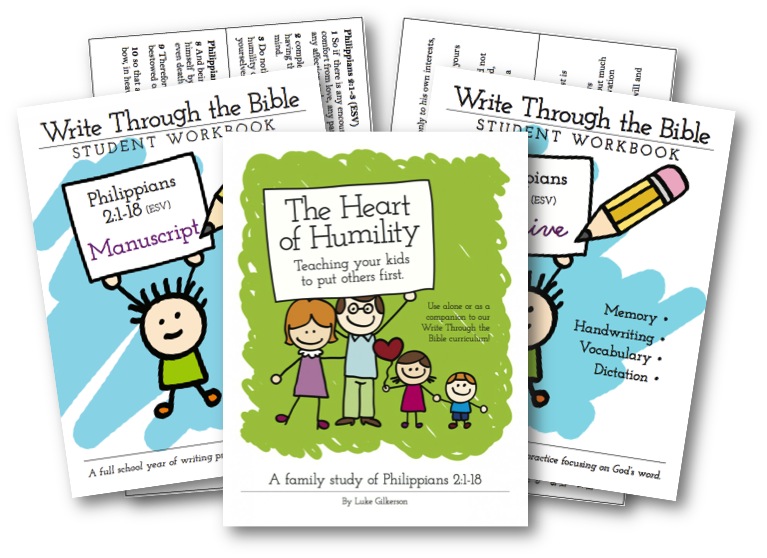 The workbooks are available in the King James Version, or the ESV. There are also family packages and Junior Notebooks.
Write Through the Bible offers a lot of wonderful products, but today I am going to share my 10 favorite things about the single student workbooks.
They combine Bible Memorization with handwriting practice. We all know our days can be full of activities. Write Through the Bible allows you to conquer two subjects at one time.
Bible passages are broken up into bite size pieces. Often when kids are given a memory verse they are overwhelmed by how much they are asked to memorize. That is not the case with Write through the Bible! They learn small pieces at a time and eventually they have memorized a large passage.
There is plenty of repetition, but not so much that they become burnt out. Each small passage is practiced for three days before moving on to a new selection to work on. There is also plenty of review worked in to the program.
The lessons are short yet meaningful. Lessons are kept short enough so that your child doesn't tire out. While the lesson length varies, your child should be able to finish a lesson in 15 minutes or less.
The books are available in cursive or print. If you have a younger and older student, they can  practice their memory work together, while working on the type of writing that fits their need.
The books are available in different formats. The books are available in a downloadable format from Intoxicated for Life, or in a paperback format from Amazon, letting you pick the format that fits your homeschool needs.
Vocabulary practice is included. How many times have you heard a child rattle off a phrase that they really didn't understand? The Bible is full of big words, but Write Through the Bible helps by having your child look up a number of vocabulary words with each selection that they are working on. An appendix is even included to help you out.
There is plenty of space to write. There are more lines than necessary allowing this product to work even for kids with large writing.
The Write Through the Bible workbooks are affordable! Starting as low as $6.99, you aren't going to find a handwriting program much cheaper. The book contains over 130 days of practice which can last you an entire year!
They are also available in Spanish! Spanish titles are available for some of the titles. This is great for Spanish speakers, and for those trying to learn Spanish.
Overall Write through the Bible is a wonderful way to combine writing practice and Bible memorization. Through repetition and practice your child will not only memorize short verses, but long passages of the Bible.
Whether you decide to use flashcards, short memory verses, Write through the Bible, or something else, the important thing is to start your child memorizing the Bible now. They pick up so much when they are young and are able to memorize and learn more then we realize.
Do you have a favorite Bible memorization method? I'd love to hear what you do. Please share in the comments.