Many of us are returning to the Scriptures at this time of year to "brush up" on the Easter Story. We're going to be telling it again when we teach the kids' Sunday School Class, we're going over it in Family Devotions or just refreshing our hearts in preparation to celebrate his resurrection. It's a true story and amazingly lovely and powerful.
Are there Easter Books for Adults?
If you're looking for something to draw you into the story again this year and make it come alive, I'd encourage you to check out one of the Jesus Chronicles books below. They are fictional accounts based on biblical accounts and historical research, but the details the authors share, as they dramatize the story of the Christ through the eyes of the disciples, make me thirsty to jump back into the Scriptures and read it again!
I have read them all – couldn't put them down! but Luke's Story was my personal favorite. I hope you will enjoy them. (Click on the covers for more details, or to purchase the books.)
Do you have others you would add to this list? Please leave a comment or link up below. I'm always looking for a new good book!
What to Read Wednesday Link Up:
I welcome you to link up your own posts about Easter. Anything Easter is fine. Posts not pertaining to this subject matter will be deleted. If you'd like to, please grab the button and include it in your post or include a text link back to this page. I'd love it if you would follow me on facebook, twitter or pinterest too!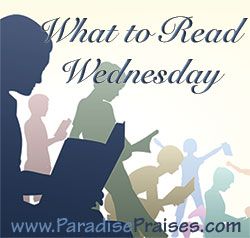 <div align="center"><a href="https://paradisepraises.com/category/what-to-read/" title="ParadisePraises"><img src="https://i1347.photobucket.com/albums/p708/ParadisePraises/whattoread_zpse96cb968.jpg" alt="ParadisePraises" style="border:none;" /></a></div>