Summer is almost here. You're almost done with this year's school books and have begun making a curriculum checklist of what you need to get to be ready for the next semester. Don't forget to add some helpful parent resources to that list.
Having trained as a school administrator, and being a curriculum writer and home educator myself: here is a list of top 15 christian homeschool books that I personally have found very helpful.
The Three R's – an excellent resource for Christian home educators
A Biblical Home Education: Building Your Homeschool on the Foundation of God's Word
Educating the WholeHearted Child
Classical Christian Education made Approachable
7 Tools for Cultivating Your Child's Potential
Homeschooling for the Rest of Us: How Your One-of-a-Kind Family Can Make Homeschooling and Real Life Work
The Ultimate Guide to Homeschooling
Honey for a Child's Heart – a guide to choosing literature for your children
Christian Education Handbook
50 People Every Christian Should Know: Learning from Spiritual Giants of the Faith
Treasuring God in Our Traditions – challenges you make meaningful memories together
The Busy Homeschool Mom's Guide to Romance: Nurturing Your Marriage Through the Homeschool Years
Large Family Logistics: The Art and Science of Managing the Large Family
Managers Of Their Homes: A Practical Guide To Daily Scheduling For Christian Home-School Families
What to Read Wednesday Link Up:
What are your favorite homeschool parent resources? I welcome you to leave a comment or to link up your own posts about homeschool parent resources. Anything relating to homeschool administration, organization, resources, etc. is fine. Posts not pertaining to the homeschool subject matter will be deleted. If you'd like to, please grab the button and include it in your post or include a text link back to this page. I'd love it if you would follow me on facebook, twitter or pinterest too!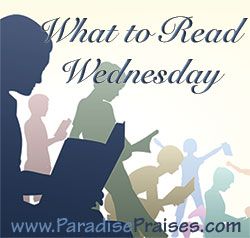 <div align="center"><a href="https://paradisepraises.com/category/what-to-read/" title="ParadisePraises"><img src="https://i1347.photobucket.com/albums/p708/ParadisePraises/whattoread_zpse96cb968.jpg" alt="ParadisePraises" style="border:none;" /></a></div>